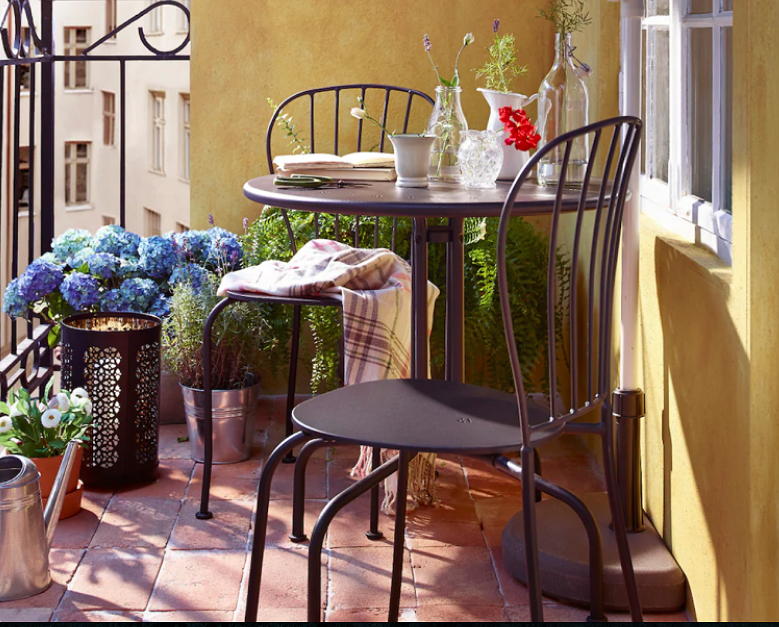 With warmer days and balmy evenings ahead, your balcony beckons! Size doesn't matter! Even the coziest outdoor space can be transformed into your own private paradise, perfect for morning coffee breaks, relaxing with a good book, or enjoying cocktails and dinner at sunset. The key is to treat your outdoor space as you would an indoor room. Pick a theme – such as classic contemporary, beachy, exotic, or tiki-cool – then decide on a color scheme. Consider an outdoor rug or accent pillows for a cohesive, pulled together look. Add lush greenery with a micro kitchen garden – herbs, edible flowers, mini vegetables, and even small potted fruits will add color, and grace your table with healthy home-grown produce!
Many home improvement stores and local nurseries are offering home delivery and curbside pickup. Here are some ideas to get you inspired!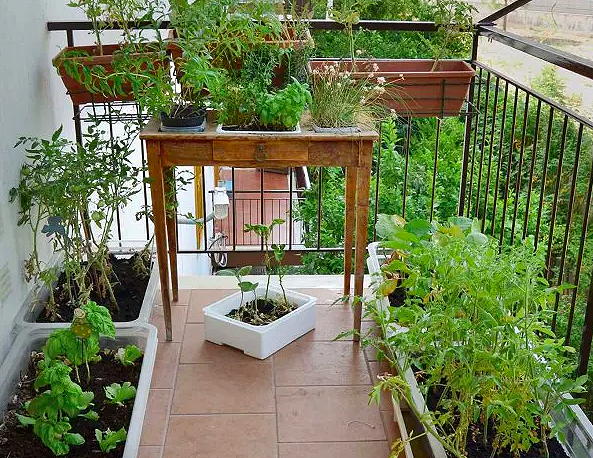 Create a Balcony Kitchen Garden
Transform your outdoor space into a kitchen garden – and reward yourself with a harvest of aromatic herbs, fresh and organic vegetables, and juicy plump fruits with great flavor that you can never get from store bought edibles! You'll need to dedicate some time to look after the plants you've chosen to grow – 15 minutes a day should be enough for the most basic tasks like watering, pinching, and pruning. Balcony Garden Web has some great tips on how to get started and how to maximize your space with vertical gardening.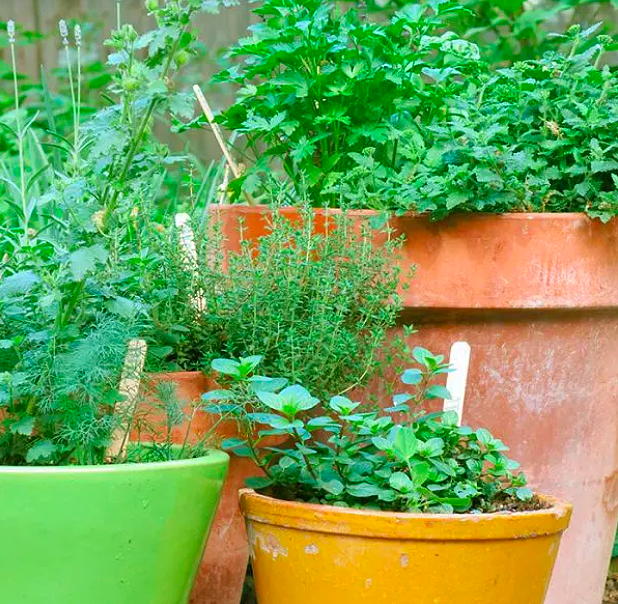 If you're new to edible gardening, start with herbs! They are the easiest plants to grow and you can put them anywhere as long as they receive a few hours of sunlight a day. You can start from seeds or buy the plants from your nearby nursery. Chive, mint, thyme, basil, oregano, parsley, cilantro are great choices to add a burst of flavor to your favorite recipes. Balcony Garden Web has some creative ideas on how to maximize your herb growing space on a small balcony, and add interest to your garden with hanging baskets, weathered cans, vertical pouch planters, and re-purposed wooden pallets.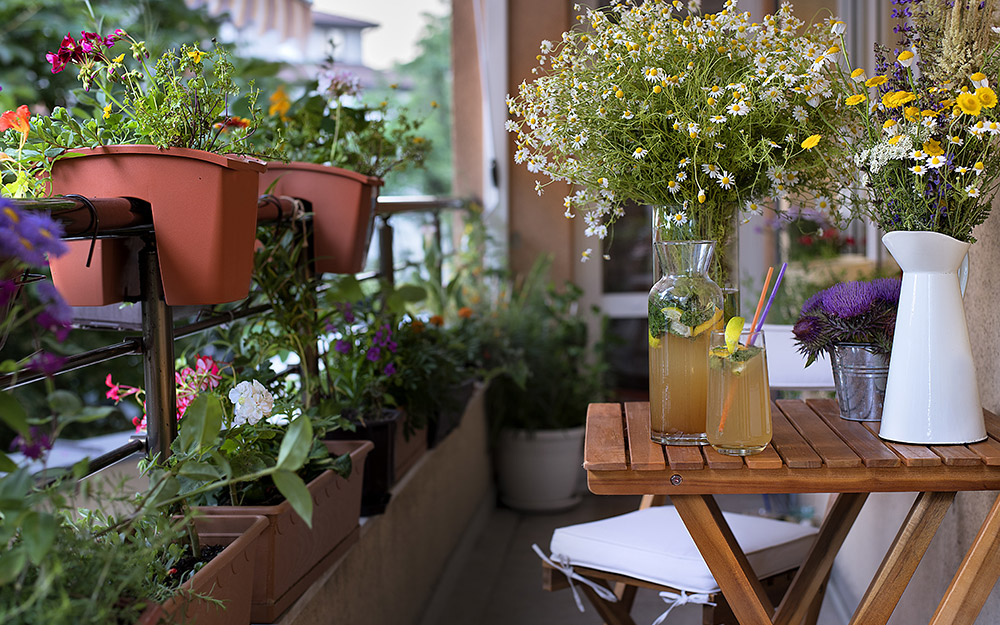 The Home Depot 5600 Sunset Blvd. Hollywood, CA 90028
The Home Depot has some great ideas on how to bring your balcony or patio to life with container gardening. Fill planters with flowering plants of your choice, set up flower boxes to adorn your railing, or create a simple shelf to hold smaller potted greenery. Go the extra mile by installing a plant trellis made from wood or plastic. Place the trellis against a wall and let the plants grow vertically. This takes up less space and is an efficient way to add a garden on smaller balconies. Your balcony trellis can also be positioned as a protective screen to offer additional privacy. The Home Depot offers curbside pick up and delivery. Just place your order online.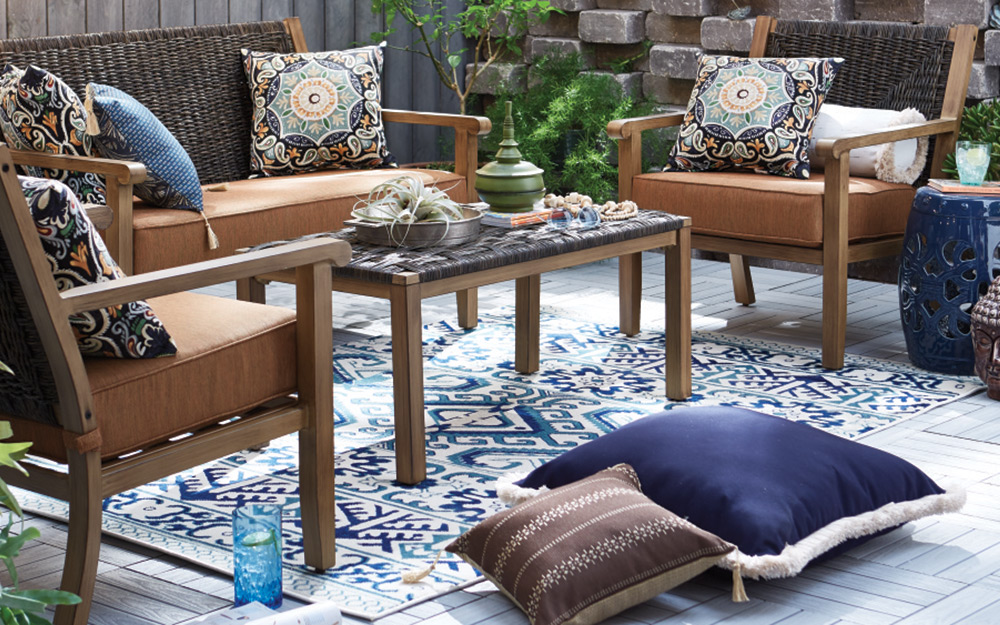 Add comfort and style to your balcony oasis with throw pillows. Available from Home Depot in a variety of colors, sizes and shapes, they also provide visual intrigue to your outdoor space and can help convey your decor theme. Spruce up the whole space with an outdoor area rug. They add both color and texture to the area with very little effort.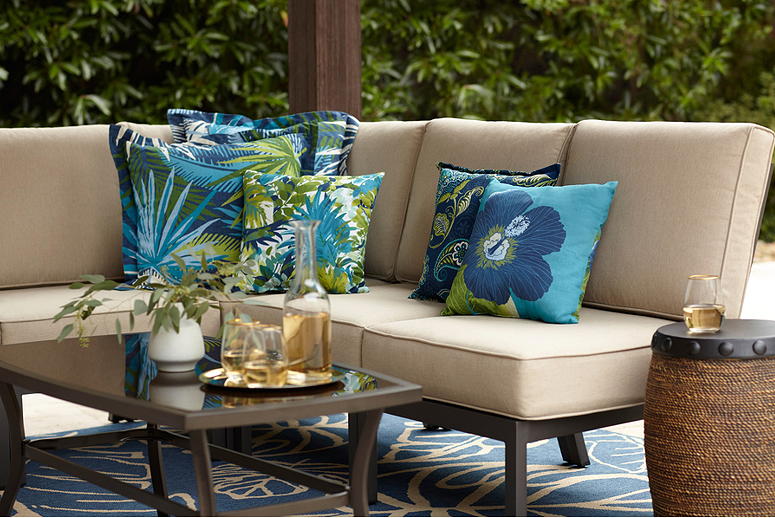 Lowe's 4550 West Pico Blvd Unit D-101 Los Angeles, CA 90019
Located in Mid-City Los Angeles, your local Lowe's has everything you need to create dream balcony. They offer a wide variety of healthy plants and flowers, as well as outdoor furniture and accessories. Curbside pickup is available.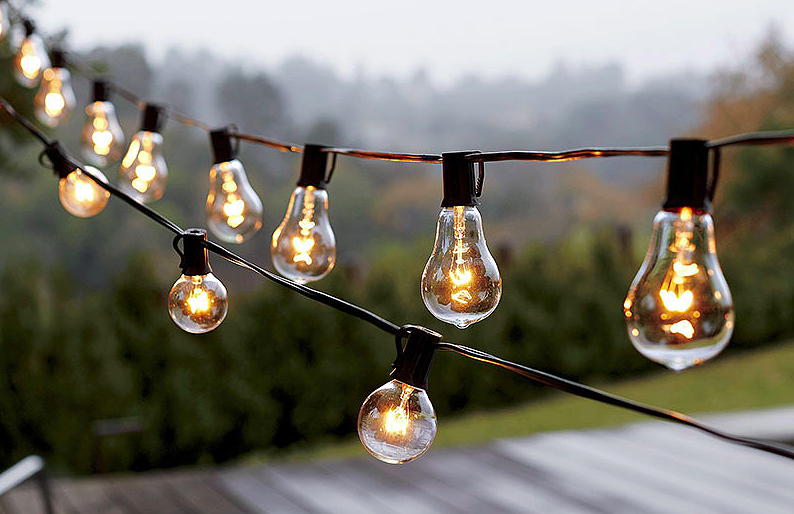 Crate and Barrel Outdoor Lighting
String lights add a warm glow to any outdoor space. Recreate the night-time romance of a Parisian bistro by hanging string lights in a crisscross pattern under your balcony roof or add illuminated wall art by arranging them in a geometric pattern on a solid outdoor wall. Use string lights with smaller bulbs (similar to the holiday variety) all year round to dress up balcony railings, large plants or trellises. For subtle glow and sparkle, look for tiny bulbs strung along a delicate wire wrap. Crate and Barrel also offers small space outdoor furniture and accessories. Order online for home delivery.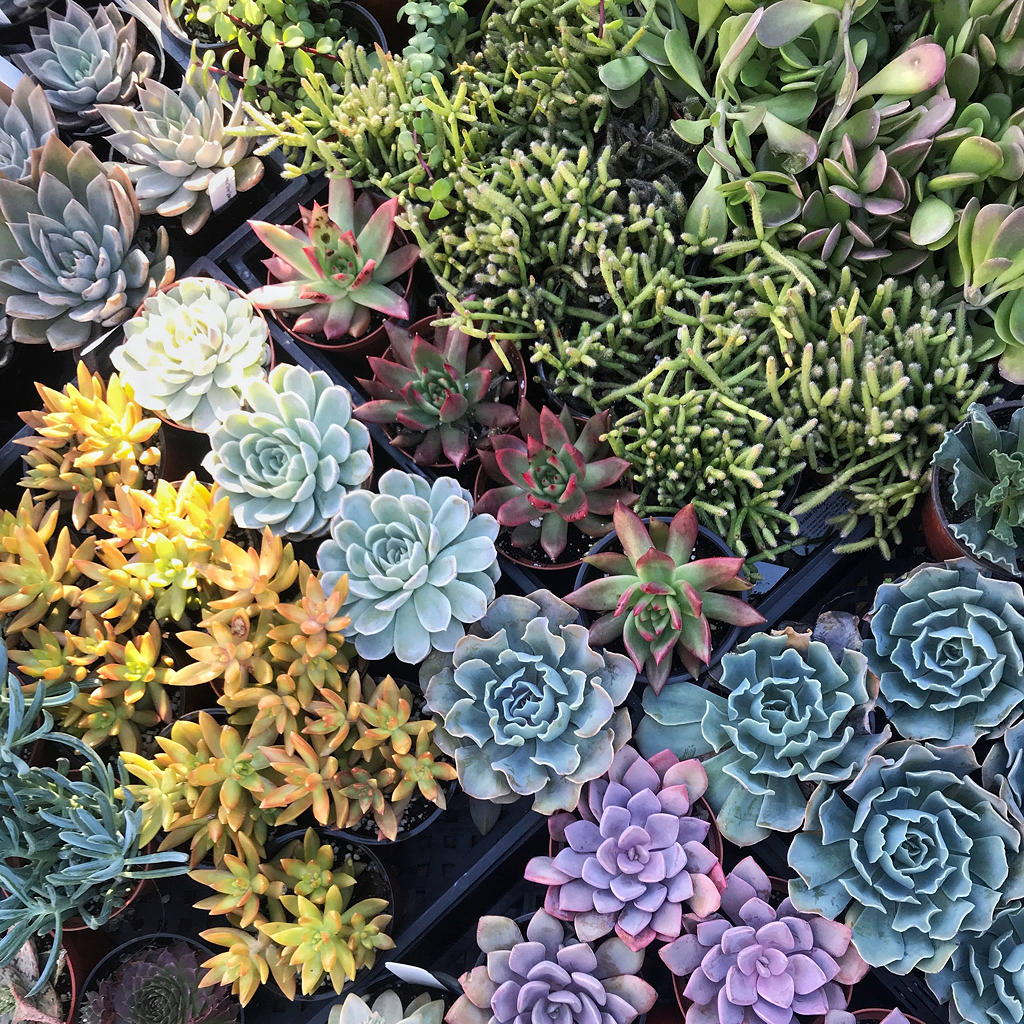 Sunset Nursery 4368 Sunset Blvd. Los Angeles, CA 90039
Sunset Nursery has been family owned and operated since 1959. Add pizzazz to your balcony with an array of colorful cacti and succulents, California native and drought tolerant plants. They also offers flower pots imported from all over the world and an extensive line of organic fertilizers and eco-friendly plant products to keep your plants happy and healthy. Located in the heart of Silver Lake, at this time, Sunset Nursery is doing drive-thru pickup orders only. To make a purchase, review the inventory online, then call 323-661-1642 to place your order and arrange pick up.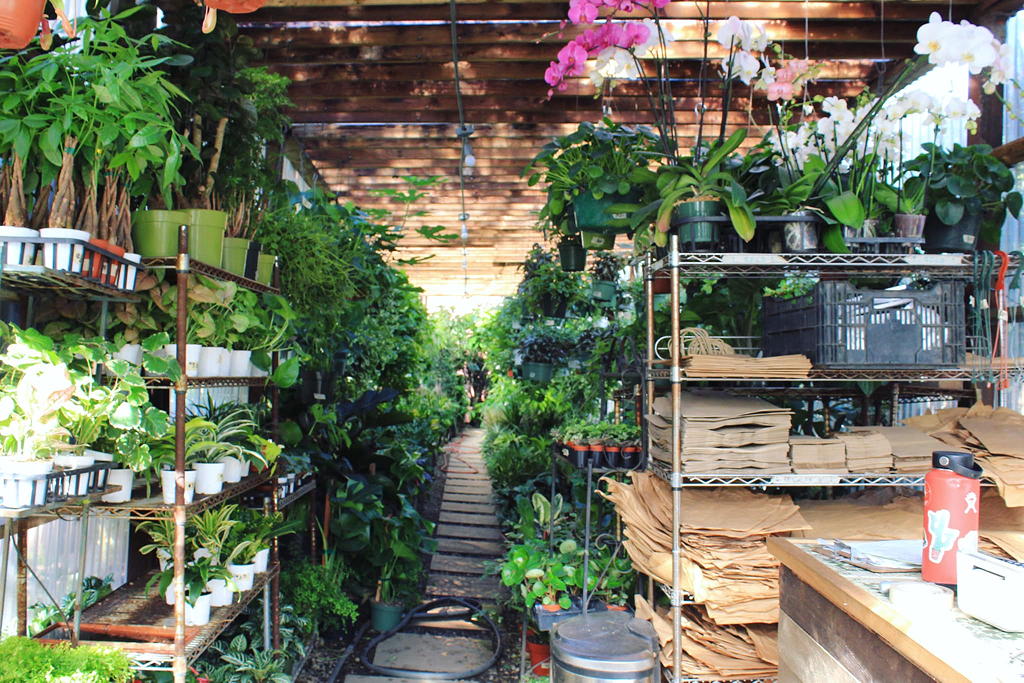 Mickey Hargitay Plants 1255 N Sycamore Ave. Los Angeles, CA 90038
Plant yourself in one of Los Angeles' premiere nurseries, whose clients include Sony Design Center, Whole Foods Market, Calvin Klein Studio, Tommy Hilfiger, and an astonishing list of celebrities. The 1,500-square-foot greenhouse is home to a wide selection of indoor and outdoor tropical plants of all sizes. They also stock decorative containers in Italian Terra Cotta, Malaysian and Chinese Ceramics, Mexican Red Clay and Rattan baskets. At this time, the store is limiting access to one shopper at a time and are accepting credit card payment only. To place a curbside pickup order or delivery, please call 323-467-8044 the day you plan on heading over.
Photo credits:
Photo #1: IKEA
Photo #2: Balcony Garden Web
Photo #3: Balcony Garden Web
Photo #4: The Home Depot
Photo #5: The Home Depot
Photo #6: Lowe's Home Improvement
Photo #7: Crate and Barrel
Photo #8: Sunset Nursery
Photo #9: Mickey Hargitay Plants