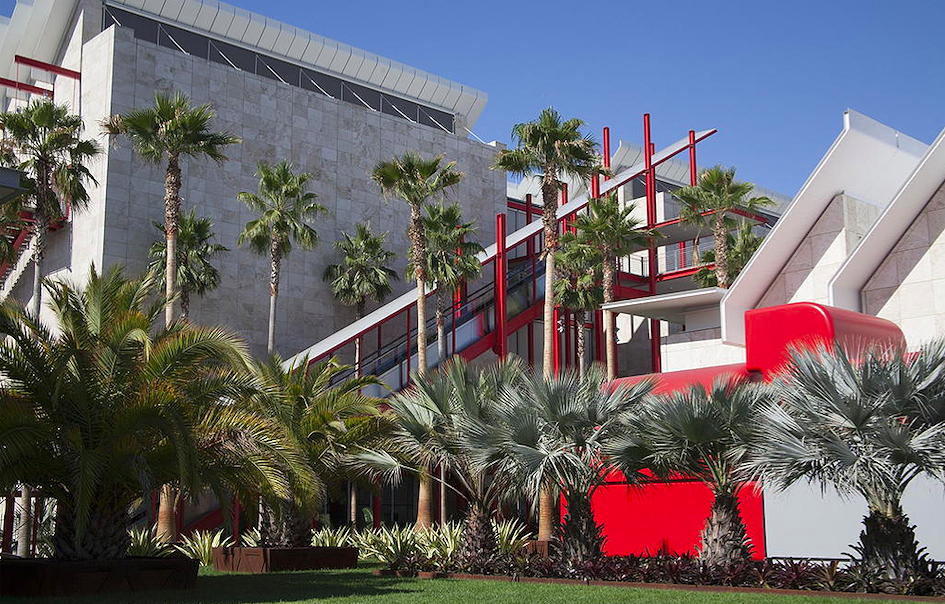 Los Angeles County Museum of Art (LACMA)

The successful commercial district known as the Miracle Mile is not the only miracle on this swath of Wilshire Boulevard! When Los Angeles County Art Museum (LACMA) opened its doors in 1965, other cultural institutions followed suit, and Museum Row was born. The anchor of Museum Row is LACMA. Travel west to Fairfax, where you'll see the The Academy Museum of Motion Pictures / May Company Wilshire, scheduled to open next year. Across the street, you can't miss the eye-popping Peterson Automotive Museum. The half block east of LACMA is occupied by La Brea Tar Pits & Museum, and across the street you'll find the Craft Contemporary (formerly the Craft and Folk Art Museum). Further east, Museum Row continues to expand its horizons with the Marciano Art Foundation, which opened in 2017.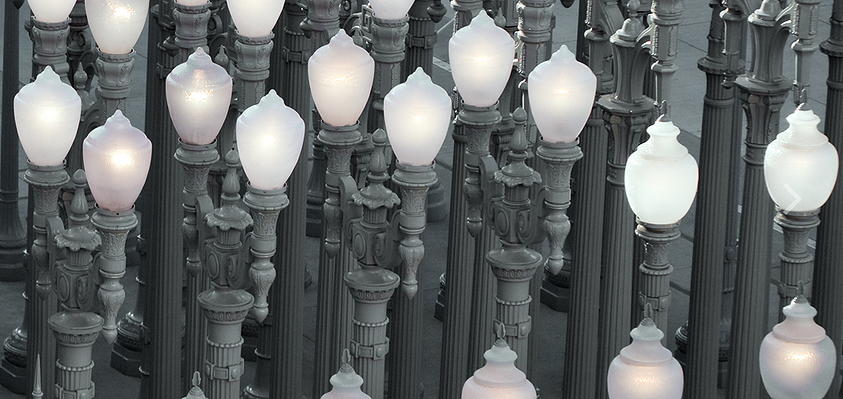 Los Angeles County Art Museum (LACMA) 5905 Wilshire Blvd. Los Angeles, CA 90036
LACMA is the largest art museum in the western United States, with a collection of more than 142,000 objects that illuminate 6,000 years of artistic expression across the globe. Committed to showcasing a multitude of art histories, LACMA exhibits and interprets works of art from new and unexpected points of view that are informed by the region's rich cultural heritage and diverse population. LACMA's spirit of experimentation is reflected in its work with artists, technologists, and thought leaders as well as in its regional, national, and global partnerships to share collections and programs, create pioneering initiatives, and engage new audiences.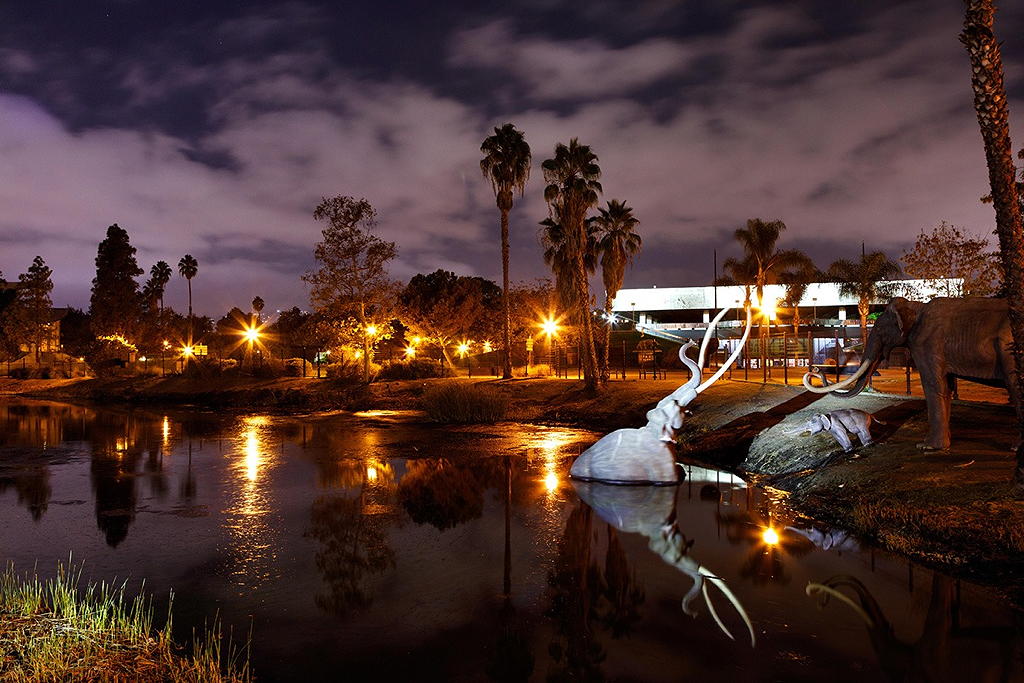 La Brea Tar Pits & Museum 5801 Wilshire Blvd. Los Angeles, CA 90036
Experience the world's only active, urban Ice Age excavation site! Long before the 405, sky scrapers, and the Hollywood sign, mammoths, saber-tooth cats, dire wolves, giant sloths, and more roamed Ice Age Los Angeles – and were excavated right here at La Brea Tar Pits. What lies beneath the surface at the world famous La Brea Tar Pits? Step inside the museum to see massive ground sloths, towering mammoths, and snarling saber-toothed cats—some of the most spectacular fossils ever found at the Tar Pits. Watch scientists prepare specimens in the Fossil Lab, and then see these incredible fossils on display in the surrounding galleries.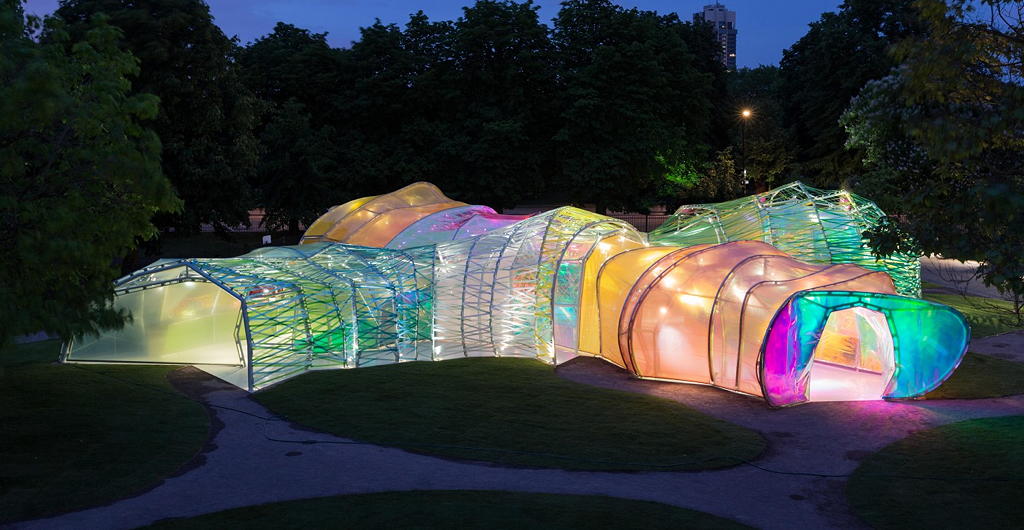 La Brea Tar Pits Second Home Pavilion 5801 Wilshire Blvd. Los Angeles, CA 90036
While you're at the Tar Pits, explore the rainbow tunnels of this immersive, temporary structure where art and science meet. Second Home Serpentine Pavilion by SelgasCano at La Brea Tar Pits is a standout architectural creation. Each of the rainbow tunnels takes you on different journey. There are multiple ways to wander, and many entrances and exits, but they all emanate from a center area where you'll be immersed in stained glass light. The pavilion experience shifts from day to night—natural light seeps through translucent walls by day, and glowing lights illuminate its colors and surfaces once the sun goes down.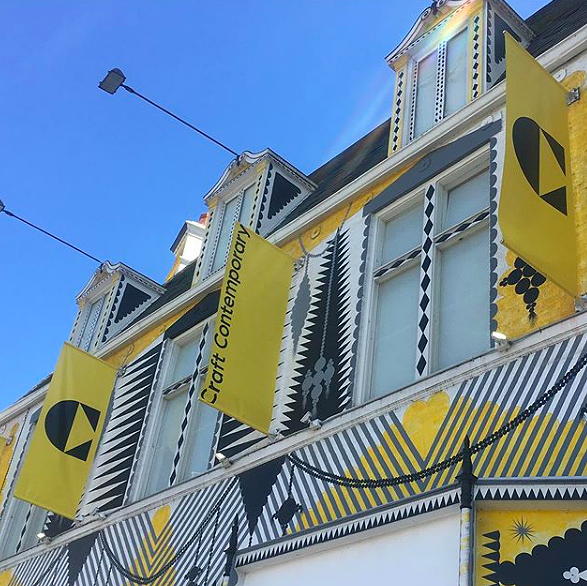 Craft Contemporary 5814 Wilshire Blvd. Los Angeles, CA 90036
Located on Los Angeles' historic Miracle Mile since 1965, Craft Contemporary (formerly the Craft and Folk Art Museum) reveals the potential of craft to educate, captivate, provoke, and empower. With a focus on contemporary art made from craft media and processes, Craft Contemporary presents dynamic exhibitions by established and emerging artists and designers who are often underrepresented in larger art institutions. Through a robust roster of regular programs and events, Craft Contemporary offers creative opportunities for the public to participate in hands-on workshops led by professional artists. Craft Contemporary cultivates an environment for people in Los Angeles to deepen their relationship to art, creativity, and one another.
The Wende Museum Berlin Wall Memorial 5900 Wilshire Blvd. Los Angeles, CA 90036
The Wende Museum's Wall Project is a unique, multi-faceted media and public art initiative organized by The Wende Museum in 2009 to commemorate the twentieth anniversary of the fall of the Berlin Wall. To mark the occasion, the museum brought ten original Berlin Wall segments to Los Angeles, installed them at 5900 Wilshire Boulevard, and invited established and emerging artists to reflect upon history and paint five of the ten segments. Measuring nearly forty feet long, The ten wall segments form the longest stretch of this iconic historical monument outside of Berlin. The wall memorial remains in place on the front lawn of the 5900 Wilshire Building, where it continues to attract hundreds of visitors every day.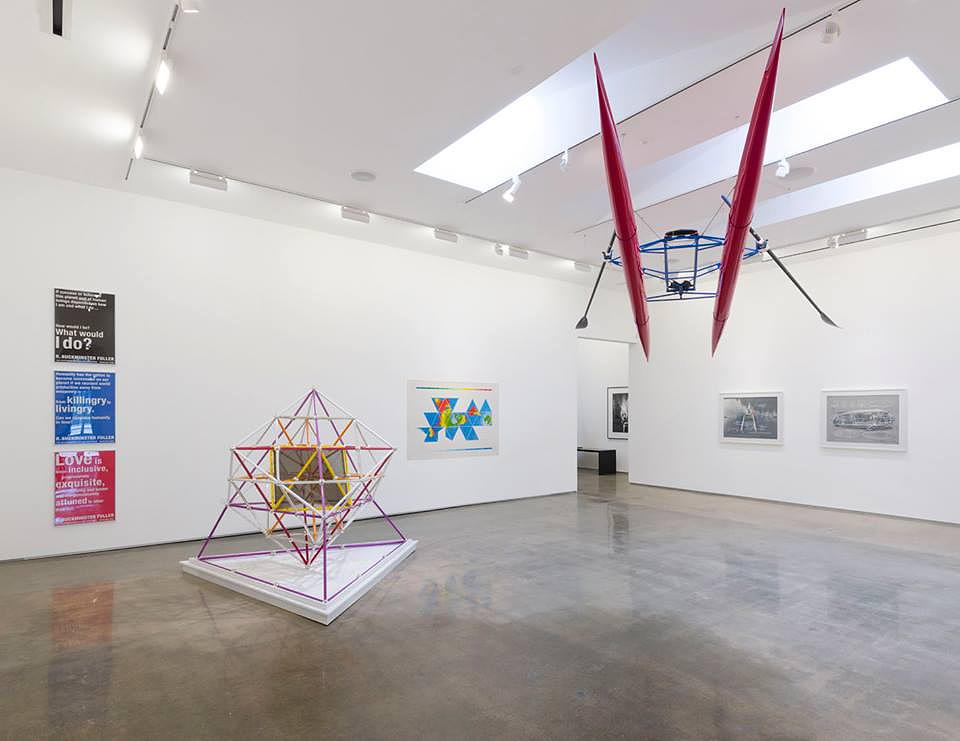 Edward Cella Art and Architecture Gallery 6018 Wilshire Blvd. Los Angeles, CA 90036
Although technically not a museum, Edward Cella Art and Architecture presents high-quality exhibits of world-famous artists and architects that make the gallery a worthy stop along Museum Row. Their newest exhibition is Fail Better, the gallery's first solo show from Los Angeles based artist Lester Monzon. Representing a progression in his exploration of graphs and expressive gestures; Monzon illustrates concepts of historical painting techniques and destroys and rebuilds areas of the painting that once were there. Through playing with graphs, abstractions and erasures he questions where mental liberation and freedom can exist in a structured existence.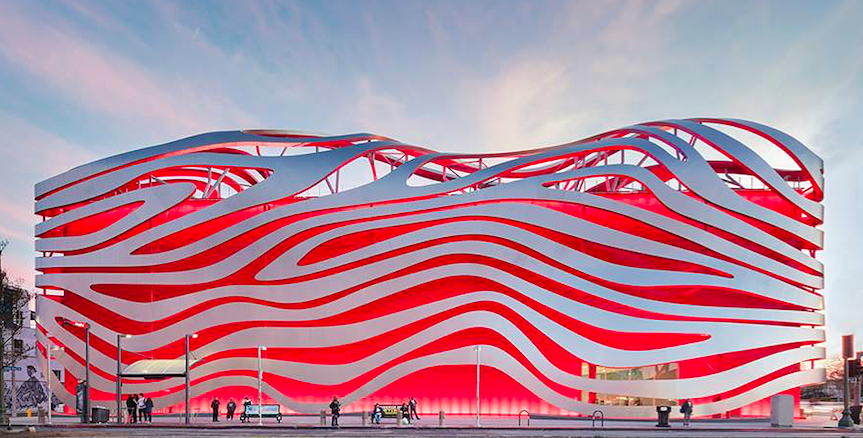 Petersen Automotive Museum 6060 Wilshire Blvd. Los Angeles, CA 90036
American automotive museums have come and gone, but until publishing magnate and philanthropist Robert E. Petersen and his wife Margie opened the Petersen Automotive Museum, there was no central location in which to celebrate the entirety of automotive history, industry, culture and artistry in Los Angeles, the most car-centric city the world has yet known. In 2015, the museum underwent an extensive $90 million renovation. The building's façade was redesigned by the architectural firm Kohn Pedersen Fox, while designers at The Scenic Route configured interior spaces to accommodate changing exhibits that are intended to encourage repeated visits. The exterior features a stainless-steel ribbon assembly, made of 100 tons of 14-gauge type 304 steel in 308 sections, 25 supports and 140,000 custom stainless-steel screws!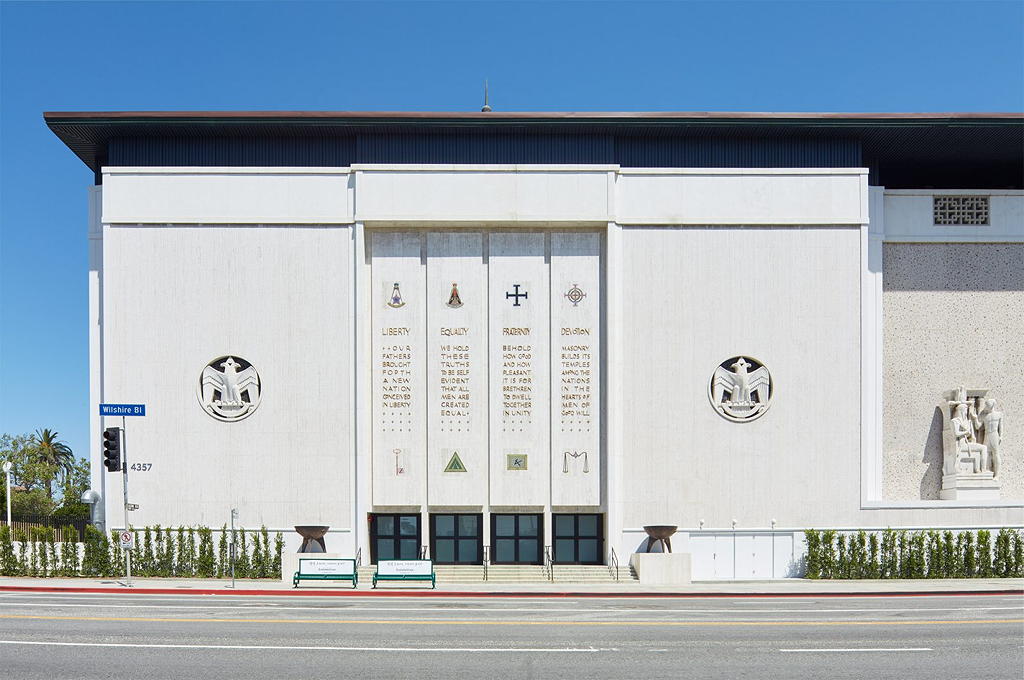 Marciano Art Foundation 4357 Wilshire Boulevard Los Angeles, CA 90010
The Marciano Art Foundation (MAF) was established by Maurice and Paul Marciano to grant the public access to the Marciano Art Collection through presentations of rotating, thematic exhibitions housed in a permanent exhibition space in Los Angeles. MAF inaugura ted it permanent exhibtion space in LA's Windsor Square neighborhood in 2017. With more than 100,000 square feet of space, the building was originally a Scottish Rite Masonic Temple designed by Millard Sheets in 1961 and was fully repurposed and renovated by Kulapat Yantrasast of wHY in its new role as a contemporary art space. The building's unique characteristics allow for exhibitions in a variety of both traditional and unconventional exhibition spaces, as it was the Foundation's intent to maintain and preserve Sheets' original architectural design and layout as much as possible. In addition to the various interior gallery spaces, MAF also features climate-controlled art storage, a bookstore, a café, an outdoor sculpture garden and on-site parking.